Here's the honest truth. Not the full truth, for that would be too much information. But the honest truth is this: I have so very much to be thankful for, and yet today I am struggling to get myself in a thankful frame of mind. Or heart.
I'm sad. I miss my mom. Today is her birthday, and I sure wish I was celebrating it with her. The anniversary of her death is not a hard day for me. But the days we should be celebrating...those are the days I miss her the most. And I really could have used a mommy today.
Other things are out of sorts, and it makes my whole attitude out of sorts. So I wasn't going to do this whole post on my 1000 Gifts today. But the day is not over yet, and I know I will regret it. I know I need to. When I feel it the least is when I need to focus on it the most.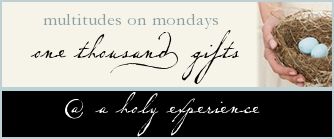 137. A first grader being almost incapable of walking across a playground; needing to skip, run, or bound.
138. Deep sighs.
139. Finals week only coming twice a year.
140. Commitment.
141. Running in the rain.
142. Tree limbs waving back and forth in the wind.
143. The swooshy sound of cars driving by in the rain.
144. "This too shall pass", a favorite saying of my mom: I heard it whispered today.
145. Tulips poking their little green tips out of the ground.
146. The pure laughter of a child that is contagious.
147. Showers at the end of the day. Washin' that day right away.
148. The theme song to Little House on the Prairie. (Yes, that's a gift!)
149. That He is I AM.
150. The stillness of this very moment.
That's much better. I knew that would help. My mind is calmer now, just like I knew it would be.
As I began writing this, my son took a break from studying and is playing the piano. Just playing as it comes...the beautiful, soothing music that comes from a worshipful heart and a musical gift. Soft, gentle, and soothing. Just what I needed.
151. Beautiful, soothing music that comes from a worshipful heart and a musical gift.
Now I'm done.