Here we go, back at it again! I'm so sorry this vacation must come to an end. It was so very good to have some down time, to sleep in, to do whatever we felt like doing. And now, like an ice cold cup of water thrown in my face, Monday is here again and it's time to scatter in different directions. I love routines, order, structure, schedules...and yet that's the very thing I needed a vacation from! Now it's back, and I think I'm ready to welcome it back with a good attitude, fresh energy.
With that, it is a good day to focus on some gratitude!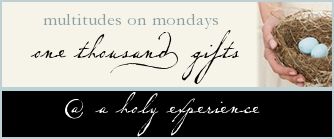 47. New starts!
48. Foggy mornings.
49. Cold, clean water right out of the faucet.
50. Warm gloves.
51. Brad's job.
52. Zephaniah 3:17
53. My Bible.
54. Fleece-lined pockets.
55. Soft carpet.
56. Brad's voice.
57. Smiles.
58. My washing machine.
59. Downy dryer sheets.
60. An hour in a quiet house.
61. The building sound the teapot makes just before it whistles.
62. Eating take-out in the van with the whole family. In our slippers.
63. The hope in my dog's eyes while he watches me make dinner.
64. Post-it notes.
65. Unexpected phone calls.
66. Dinner made in the morning.
67. Watching the sunrise with my family.
68. Seeing completely undisturbed snow.
69. Running and sliding on the ice.
70. Regular bedtimes.
71. The smell of a clean pillowcase, right up against my face, just before I fall asleep.