Oh, I am so thankful it is Monday! I truly am. I need a new week to get underway, and I'm looking forward to this one. Sometimes fresh starts just feel right, even if circumstances haven't changed.
As I sit here and begin this, the snow has started falling. It still gives me that childlike giddy feeling inside to see the snow start to cover the grass! I love to stare at the snow coming down. It's so peacefully mesmerizing. I hope it keeps falling this morning. I have a perfect view out the window from my treadmill, and as soon as the bus pulls away this morning I will be running. And I'd love to watch the snow fall while I run. The snow...it reminds me of fresh starts. In a place where winter can be so grey, the white is so bright and new. It covers. It slows people down, it insulates everything around me. It quiets.
So, in the quietness of this Monday morning, preparing myself to enter into the rapid pace of a new week, I'll continue with my thanks: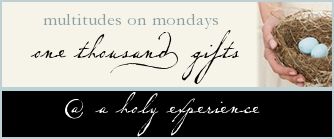 72. Perfectly unique snowflakes
73. Stillness
74. Lamentations 3:21-24 "therefore I have hope"
75. Quietness
76. Eyes the color of chocolate
77. The smell of snow
78. The ability to physically take a deep breath
79. The ability to emotionally take a deep breath
80. Gentleness
81. Holding hands
82. The taste of cold milk with a gooey chocolate chip cookie
83. Warming socks in the microwave before putting them on my cold feet
84. The peace of the last child's light going out at night
85. The peace of my light going out at night
86. 67-yard runs that put an exclamation mark on a victory
87. Sharing "could you believe that?" conversations with total strangers
88. Running into a store looking for something specific and finding exactly what I need
89. Clearance racks
90. Calculators
91. Frosty breath
92. Gloves
93. Ability
94. The laughter of an inside joke
95. Perspective