I think without realizing it, I listed some great things yesterday. I just may borrow a few for today. This weekend was beautifully lazy in all the right ways. Lots of time to get little things done. Slower paced. Not shuttling at a dizzying pace. Even a little longed-for solitude. Just a little, but I'll take it.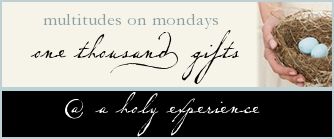 392. Delicious brownies that make you so thankful for functioning tastebuds.
393. An unhurried morning.
394. Cleaning little things.
395. Quiet companionship.
396. Playing in the sprinkler.
397. Hot sun on my face.
398. Iced Tea/Lemonade after a hard workout.
399. A near empty cardio room.
400. Glimpses of adult maturity.
401. Clean windows.
402. Watching a little boy push a heavy Costco cart, with great delight saying, "Don't worry dad, I got it!".
403. The toe in the water of catching up with a friend after tooooooo long. It just made me want more.
404. Watching my girls have an entire weekend together, watching their friendship.
405. Birthdays.
406. Birthday cake.
407. Cleaned out emails, uncluttered.
408. A patient, tolerant old dog.
409. Eating dinner outside.
410. Decisions to make...options are a blessing.