I am all over the place today in my thanks. Last week flew by so quickly, and this weekend was so very short, and now it's Monday again?? Amazing how that happens. And this week has set itself up to be just as packed. Truly, in the midst of everything, even the tough things, life is good! So onward I go, listing a sampling of the gifts: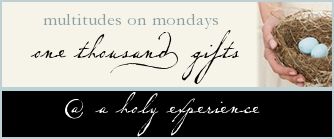 328. A forecast for rain that proves to be wrong!
329. A long run with my favorite son.
330. A slight mist at mile 8.
331. Skating to "YMCA" with my daughter. (In the same rented skates I wore as a child!)
332. A new supply of grace to give when I didn't feel it in there.
333. Eating some cake...right off the plate...not even bothering to cut a slice.
334. My dog rolling on his back in the sun.
335. Breakfast with just my man.
336. Countdowns.
337. Getting it all done in a day that you thought you couldn't get it all done.
338. Left-overs that last all weekend.
339. Cherry trees all in full bloom.
340. The smell of freshly spread beauty bark.
341. The sound of lawn mowers in the neighborhood.
342. The way the flowers and trees defiantly grow, knowing it's Spring even with our wacky weather.
343. A gentle answer when I deserved a harsh word.