My heart has been full to overflowing with a deep gratitude these last few days. And it's all so very simple, yet deeply profound. Sometimes I just can't wrap my brain around it. Is that even possible for us? Probably not fully. But I can wrap my heart around it. And I do.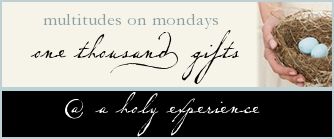 344. The cross.
345. The empty tomb.
346. The invitation.
347. The acceptance.
348. Forgiveness.
349. Love given, love received.
350. Heaven.
351. Eternity.
On the outside, seemingly broad thanks. In my heart, they are pointedly specific.