Wacky day today, and just the briefest of windows to hop on here and list some gift of thanks! Happy Monday!!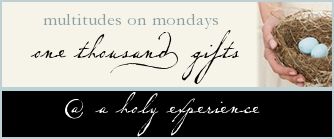 271. A person's willingness to step outside of a comfort zone and away from where she would rather be in order to shine the light on hope.
272. Holding my husband's hand in church.
273. That my husband's job is one that allows us to see each other everyday.
274. Initiated conversations.
275. The promise that hope does not disappoint: Romans 5:5.