I'm going to get straight at it today, screeching into completing the first quarter of my 1000 Gifts: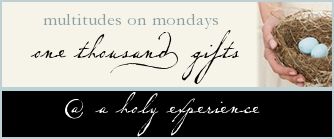 229. Quiet
230. Bright sunshine on one side
231. Fluffy clouds on another side
232. Longer daylight
233. Budding leaves on raspberry bushes
234. Lingering piles of snow
235. New recipes for old favorites
236. Effortless forgiveness
237. Disciplined forgiveness, daily
238. Watching little duck bottoms sticking up out of the lake
239. The sound and ripples of ducks gliding in to land on the lake
240. A kind "good work" and thumbs-up from a stranger
241. Dreams that inspire renewed prayer
242. Watching a child discover the dream of an adventure
243. Psalm 63:7,8
244. A child that can make us laugh until our cheeks hurt at the retelling of a story
245. Finding a perfect new bed for a very big kitty
246. The smell of the coffee aisle at the grocery store
247. Turning on the radio in the car and hearing a Mariner's game being announced!
248. Knowing the truth that people may reject, but God ALWAYS accepts
249. In every situation, there is something to give thanks for
250. Sticking your nose inside a chocolate chip bag and taking a long, slow breath. It truly relaxes me!