Oh, I have written this list as I've gone through my week, and have looked forward to getting it on here. Now it is nearing the end of the day and I haven't had a chance to get my fingers on the keyboard! And this isn't something I choose to rush. It isn't something I want to rush through for the sake of ritual. These are really things that rattle my thoughts and put me in a place of awareness. I want to always be in that place, to see the things all around me that are gifts. To see things that I otherwise might miss. To pause, even if only in my thoughts, to really be grateful for the gift I see. Because truly there is so much to see, so much. So in order to not rush through, I will just list a few tonight. But my heart is much more full than this list shows. It is full of awareness, full of thankfulness for these gifts that I continue to list...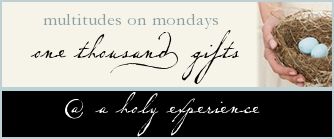 221. The unexpected drop-in of a friend.
222. Finding truth that can help make a great thing even better.
223. Staring up at the sky when snow is falling, trying to focus on just one single flake, and seeing the great rush of flakes in my peripheral vision.
224. The absolute still and quiet when everything is coated in a thick layer of snow.
225. An exciting idea that takes root, a vision that starts to grow from that.
226. Quiet, vulnerable conversations in the dark.
227. Complete acceptance.
228. The way butter melts into an English muffin and settles into all those crooks and crannies. (I had to include at least one food reference!)
That's all for tonight. Now it's time to settle in and enjoy the day winding to a close!