I have a lot of love in my life. I love my God, I love my kids, I love my friends...so much to choose from on a day of love! But, at the heart of it all, this day is a day meant for romantic love...the kind of love I have for only one.
So I thought this would be the perfect day to shift things a bit and list only things about my Valentine. I could easily make all 1000 about this man, but will keep it to but a few as I continue on with my 1000 Gifts: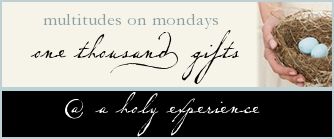 169. He loves me well.
170. His patience.
171. His kindness.
172. His humility.
173. His respectful attitude towards everyone.
174. His trust in the Lord.
175. His optimism.
176. His gentleness.
177. His strength.
178. His work ethic.
179. His willingness to learn and grow.
180. The way he challenges me.
181. The way he pushes me.
182. The way he loves our children.
183. The way he loves ice cream.
184. The way he can raise both eyebrows, one at a time.
185. His laugh.
186. The way he looks into me, not just at me.
187. The way our hands fit together perfectly when we hold hands.
188. The way he encourages me.
189. His enthusiasm.
190. His discipline.
191. The way he leaves me little notes before he leaves in the morning.
192. That he calls me just to say he's thinking about me.
193. That he will serve me cookies and milk. As long as I make the cookies. :)
194. That he is a gentleman.
195. That he treats me like a lady.
196. That he lets me tuck my cold feet under his legs to warm up when I get into bed.
197. He tells me he loves me every day.
198. He shows me he loves me every day.
199. a gift worth noting twice: #156
200. His willingness to work hard and play hard to make what we have something truly special.
Happy Valentine's Day to my sweetheart....I love you so very much.